Introducing the Dunk Tank – a thrilling and hilarious attraction that promises laughter, suspense, and a refreshing splash of excitement. Get ready to take aim and make a splash as you test your throwing skills and enjoy the joyous spectacle of dunking your friends, colleagues, or even daring volunteers.
The Dunk Tank is a classic carnival-style game that adds a delightful twist to any event or gathering. A daring volunteer sits on a platform above a large tank filled with water, suspended on the edge of anticipation. Participants line up, armed with their throwing prowess, aiming to hit the target with a well-aimed toss. With each accurate throw, the anticipation builds, and the suspense is palpable as everyone eagerly awaits the splash that signals success.
Laughter and cheers fill the air as friends playfully taunt each other, spectators cheer on the throwers, and the tension heightens with every near miss. It's a chance to showcase your throwing skills, but more importantly, it's an opportunity to create unforgettable memories and bonds through shared amusement.
The Dunk Tank transcends age and brings people together in the spirit of friendly competition and camaraderie. Whether it's a charity event, a company picnic, a school fair, or any festive occasion, the Dunk Tank adds a refreshing dose of interactive entertainment. The sound of water splashing, the excitement of hitting the target, and the thrill of seeing someone take an unexpected plunge into the tank all contribute to an experience that's as engaging for participants as it is entertaining for the audience.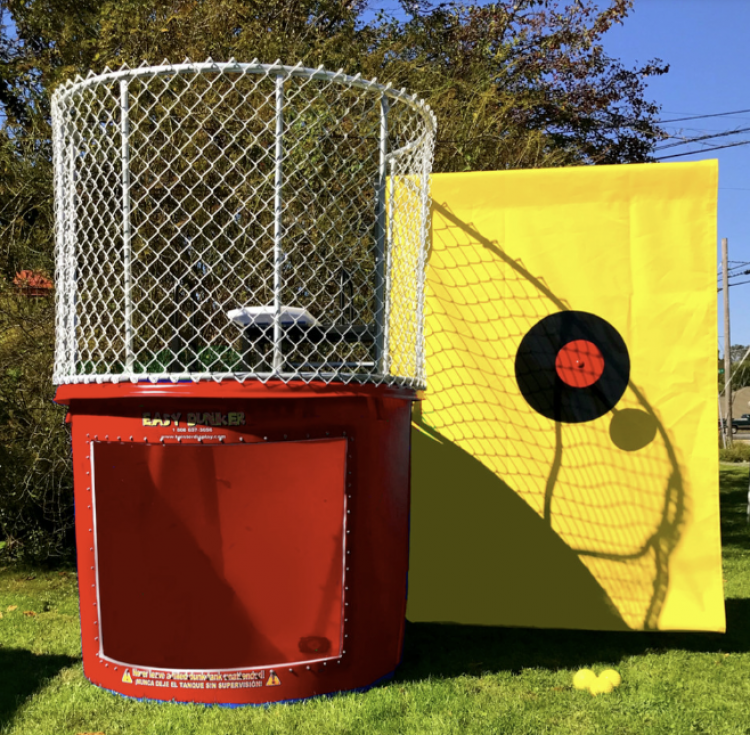 Dunk Tank With Window
from $302.00